One question, Michael. How would a member know who is a staff member?
The modern conservative is engaged in one of man's oldest exercises in moral philosophy; that is, the search for a superior moral justification for selfishness.
-John Kenneth Galbraith
A conservative is a man with two perfectly good legs, who, however, has never learned to walk forward.
-Franklin D. Roosevelt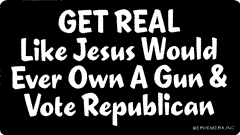 ---
Do members with text and images in their signatures have to edit?
---
Whew!
Thanks for settling that!
---
---
Who is online
Users browsing this forum: No registered users and 2 guests