Welcome to the forum, Ed!
PS - It's Edward R. Murrow, not Edgar.
Be who you are & say what you feel, because those who mind don't matter & those who matter don't mind. --Dr. Seuss
Keith Olbermann rocks! --dejapig
---
Welcome to the forum, Ed!
The modern conservative is engaged in one of man's oldest exercises in moral philosophy; that is, the search for a superior moral justification for selfishness.
-John Kenneth Galbraith
A conservative is a man with two perfectly good legs, who, however, has never learned to walk forward.
-Franklin D. Roosevelt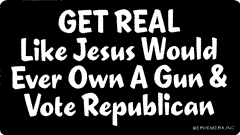 ---
---
Return to "Other Places To Visit"
Who is online
Users browsing this forum: No registered users and 4 guests