Posts: 9
Joined: Tue Sep 29, 2009 11:40 pm
I missed both Keith and Rachel last night, got stuck in a horrific traffic jam. Did Keith show up (It was Friday!)?
---
No, David Shuster was filling in.
---
The show had an impressive guest line-up, though, for a non-Keith night!

-Marie-
You find out what someone is really like in "battle," and Olbermann is who you want to be in a foxhole with, Patrick said. "On the air, we had each others' backs," said Olbermann.
-David Goetzl: "Keith Olbermann, Dan Patrick still brothers long after ESPN's 'Big Show'"; MediaPost blog,

4-6-2012
---
Posts: 42
Joined: Sun Oct 18, 2009 11:35 am
Location: Dreamland
Marie wrote:The show had an impressive guest line-up, though, for a non-Keith night!

-Marie-
Yeah, now if only if Keith was actually there, then maybe I would have watched it! See, I really have nothing against David Shuster, it's just he's not suited for Countdown. I like Lawrence O' Donnell much better.
"When your own xenophobia shocks other FOX anchors, you have no place to go."- Joel McHale, The Soup Presents: Best Talk Show Moments
---
Posts: 217
Joined: Tue Apr 21, 2009 11:13 pm
What did they talk about?
Nobody comes to watch
Countdown with David Shuster
.
---
I so like Shuster, but his delivery of Countdown stuff just isn't the same as Keith or Lawrence. David is a bit stiff, I think. Even to how he sits. But I like him on other shows, so it's kind of weird. I guess I am saying it is mighty hard to fill Keith's shoes.....
The modern conservative is engaged in one of man's oldest exercises in moral philosophy; that is, the search for a superior moral justification for selfishness.
-John Kenneth Galbraith
A conservative is a man with two perfectly good legs, who, however, has never learned to walk forward.
-Franklin D. Roosevelt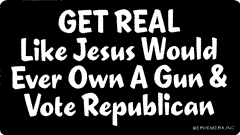 ---
Posts: 845
Joined: Tue Jan 06, 2009 8:18 pm
Location: Edinburgh, Scotland
I really like Shuster's attitude/outlook - whenever he appears in other places for interviews and is a little freer to express himself, he strikes me as having his head screwed on very well.
Those are the headlines...god I wish they weren't.
---
Shuster started out as a news correspondent and he's always most effective the closer he is to that role.

As guest host on an opinion-driven show he does his best, but it always strikes me that he's feeling slightly out of his element.

-Marie-
You find out what someone is really like in "battle," and Olbermann is who you want to be in a foxhole with, Patrick said. "On the air, we had each others' backs," said Olbermann.
-David Goetzl: "Keith Olbermann, Dan Patrick still brothers long after ESPN's 'Big Show'"; MediaPost blog,

4-6-2012
---
---
Who is online
Users browsing this forum: No registered users and 2 guests