He usually takes some time off between Christmas and New Years too, right?
---
Site Admin
Posts: 9954
Joined: Thu Feb 23, 2006 1:22 pm
Location: In The TARDIS Or At U.N.I.T. Headquarters
Contact:
Yes.
"Laugh hard, run fast, be kind." - Peter Capaldi as the Twelfth Doctor (Twice Upon A Time)
---
Posts: 753
Joined: Tue Jul 22, 2008 11:46 am
Maybe he'll come back with a ring on his finger!
---
Posts: 753
Joined: Tue Jul 22, 2008 11:46 am
Think he'll be gone next week too?
---
Posts: 87
Joined: Thu Oct 16, 2008 1:12 pm
Location: Ubovia
There probably could not be a Countdown without both interns and writers. The intellectual content of that show is so rich there must be a very good team of people involved. I assume that they would have most of the data available for Keith and/or guest host ready by the time they hit the studio. In all probability, the hosts would then have time to cull through the material and add whatever special touches they wanted before hitting the teleprompter. This week has been interesting in that the material has been top quality and it is apparent Schuster is getting the hang of the delivery. Let's face it, no matter who would guest host, KO would be a "hard act to follow". The show concept is a great one, and Phil G. was right to pull KO in to handle it. There is no one better, IMHO. However, the guy needs vacation (as we all do) so working a guy like Schuster in would be a good idea. Rachel was great, Alison is great (and was great subbing for Rachel). I suspect there are others who also would do a good job.

I have to confess, I don't miss WPITW as bad as I thought I would. I do like the weird segments coming in from around the world, like the tree that looked like Godzilla, or yesterday's guy on a 32 foot surfboard. I completely love the comments that run below the "Countdown to Jan. 20". They are always fun to read, and review the next day (I usually go up to the MSNBC feed, but wish somehow these things could be segmented and run on YouTube...I get some in from various YouTube stations, which I like to put on my own channel).

Anyway, it will be good to have KO back at the helm, when he gets back.
There are cases where doubt is unreasonable, but there are others where it seems logically impossible. And there seems to be no clear boundary between them. LW/OC/454
---
Posts: 753
Joined: Tue Jul 22, 2008 11:46 am
Just found out KO was back on last night. Shall never again
turn my back on David Shuster when he is subbing
---
I saw "Beaker" (Shuster) on my TV, lindagene, so I want to borrow
YOUR
TV from now on when Keith is on vacation!
You may be thinking of Rachel. She returned to her show last night.
-Marie-
You find out what someone is really like in "battle," and Olbermann is who you want to be in a foxhole with, Patrick said. "On the air, we had each others' backs," said Olbermann.
-David Goetzl: "Keith Olbermann, Dan Patrick still brothers long after ESPN's 'Big Show'"; MediaPost blog,

4-6-2012
---
Nope, Keith was not on last night, misslindagene. It was Shuster, all the way.
The modern conservative is engaged in one of man's oldest exercises in moral philosophy; that is, the search for a superior moral justification for selfishness.
-John Kenneth Galbraith
A conservative is a man with two perfectly good legs, who, however, has never learned to walk forward.
-Franklin D. Roosevelt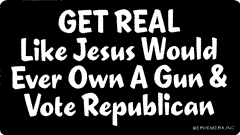 ---
Posts: 753
Joined: Tue Jul 22, 2008 11:46 am
Thank you...am not crazy afterall...my friend, who doesn't get cable, told me her neighbor said KO was on last night....I even argued with her...but she checked with her again, and told me I was wrong. Of course, her neigbor is in her 80s!
---
You find out what someone is really like in "battle," and Olbermann is who you want to be in a foxhole with, Patrick said. "On the air, we had each others' backs," said Olbermann.
-David Goetzl: "Keith Olbermann, Dan Patrick still brothers long after ESPN's 'Big Show'"; MediaPost blog,

4-6-2012
---
Posts: 753
Joined: Tue Jul 22, 2008 11:46 am
---
---
Who is online
Users browsing this forum: No registered users and 9 guests